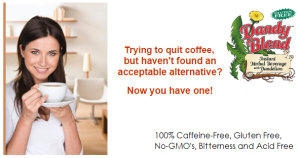 The news and the tabloids seem to be smeared with headlines about the cold weather creeping up on us and the sun sneaking away earlier each night, and as much as I hate to admit it not only do I see it, I feel it! Dont you?!
With the cold weather and short days many of us begin to fall back into some of our same old habits that weve worked so hard to break. Who wouldnt? I know after a long day of work, when the moon is higher than Ive seen the sun all day, the last thing I want to think about is going outside to fight whatever weather mother nature has thrown at us for some exercise. Or when 3 p.m. hits and Im in a rush to meet a customer all I want is a quick cup of Joe which we all know is going to come back and haunt me at 3 a.m. Now, I cant motivate you to go out and fight the darkness and weather but I can encourage you to take the small steps to ensure you dont fall back into those old habits. A simple option is to test the many different beverage options to fight off those caffeine cravings. Beverage options that arent going to keep you up into the wee hours of the morning or send your stomach on a roller coaster ride.
Whether it be 6 a.m, your 10 a.m. morning break, or that dreadful 3 p.m. crash STOP! Take a quick second, and do NOT reach for that coffee or jump into the slow moving coffee shop line. Instead, open the cupboard. Reach passed the regular tea. Beside the coffee beans. Above the coconut oil and grab that bag of Dandy Blend. Yes, Dandy Blend, the gluten-free, herbal substitute that has both the health benefits of dandelion root and the rich, full bodied flavour, smoothness & texture of real coffee! PLUS on top of all of the health benefits it holds the fructose that occurs naturally in the roots of dandelion & chicory give it a sweetness that many people say takes the place of any additional sweeteners.
So do me one favour, join me for a warm cup of Dandy Blend, skip the caffeinated coffee, enjoy a good night rest and youll be ready for whatever challenges tomorrow brings.
Were going to beat this weather, the darkness and keep kicking those bad habits to the curb one small feat at a time.