The views have definitely changed over the years as we look back on the last posts of us attending the Natural Products Expo West. This year instead of leaving the blustering Canadian weather it was all sunshine, blue skies and green grass as we headed for the airport. Not to be mistaken for the beautiful weather we flew into in California, there is nothing more welcoming than sunshine and Palm Trees.
Now we're here meeting and catching up with, oh, so many friendly and fresh faces. There is so much to do and even more to see here this year. Not to mention running into this friendly face. You really never do know who you're going to run into here!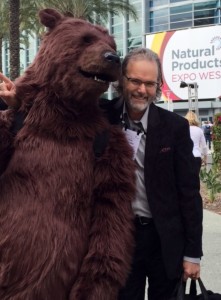 We're excited to see even more of the exciting new products, people and news here and we'll be sure to share it with you when we are back. Also, if you're attending the #ExpoWest2016 track Francine & David down – they'd love to see you!
Friendly Vibes from Anaheim!