#2 Ashwagandha Drink
Ashwagandha, also known as Indian Ginseng, has a wide range of benefits and significance in Ayurveda. Ashwagandha has been used for thousands of years as a rejuvenating and Adaptogenic herb.  In Sanskrit word "Ashwa" means horse and "Gandha" is vitality – a herb that promotes vitality and virility in its traditional use to support healthy male reproductive system.
Ashwagandha is also known traditionally to benefit athletes by building blood, muscles tissues and healthy semen. It has been well-researched for its ability to support healthy aging and strengthen the immune system.
If used daily in a beverage Ashwagandha helps minimize the negative effects of stress, supports a healthy immune system and helps build sexual and reproductive balance.
Below is our second recipe to help keep you warm while incorporating the Ayurvedic Herb, Ashwagandha. This beverage could take a few days to get accustomed as it has a bitter and astringent taste but the health benefits are immense.
Grab these items from your cupboard:
One cup Water
One cup Milk of your choice (no Soy Milk)
One tea spoon Organic Ashwagandha powder
¼ tsp Cardamom powder (you can use fresh if you wish as well)
½ tsp Ginger Powder (if you prefer fresh, grate a small portion of fresh ginger)
Mix it Like This…
Boil water with Ashwagandha powder, cardamom and ginger. Let the powders steep for 5 minutes. Add milk and let it steep again till the liquid comes to a soft boil. Add your choice of sweetener to balance the bitter taste, if you wish… ENJOY!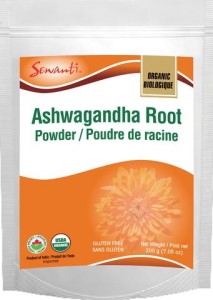 Information and recipe provided by Neelam Toprani, CEO & Founder of Sewanti